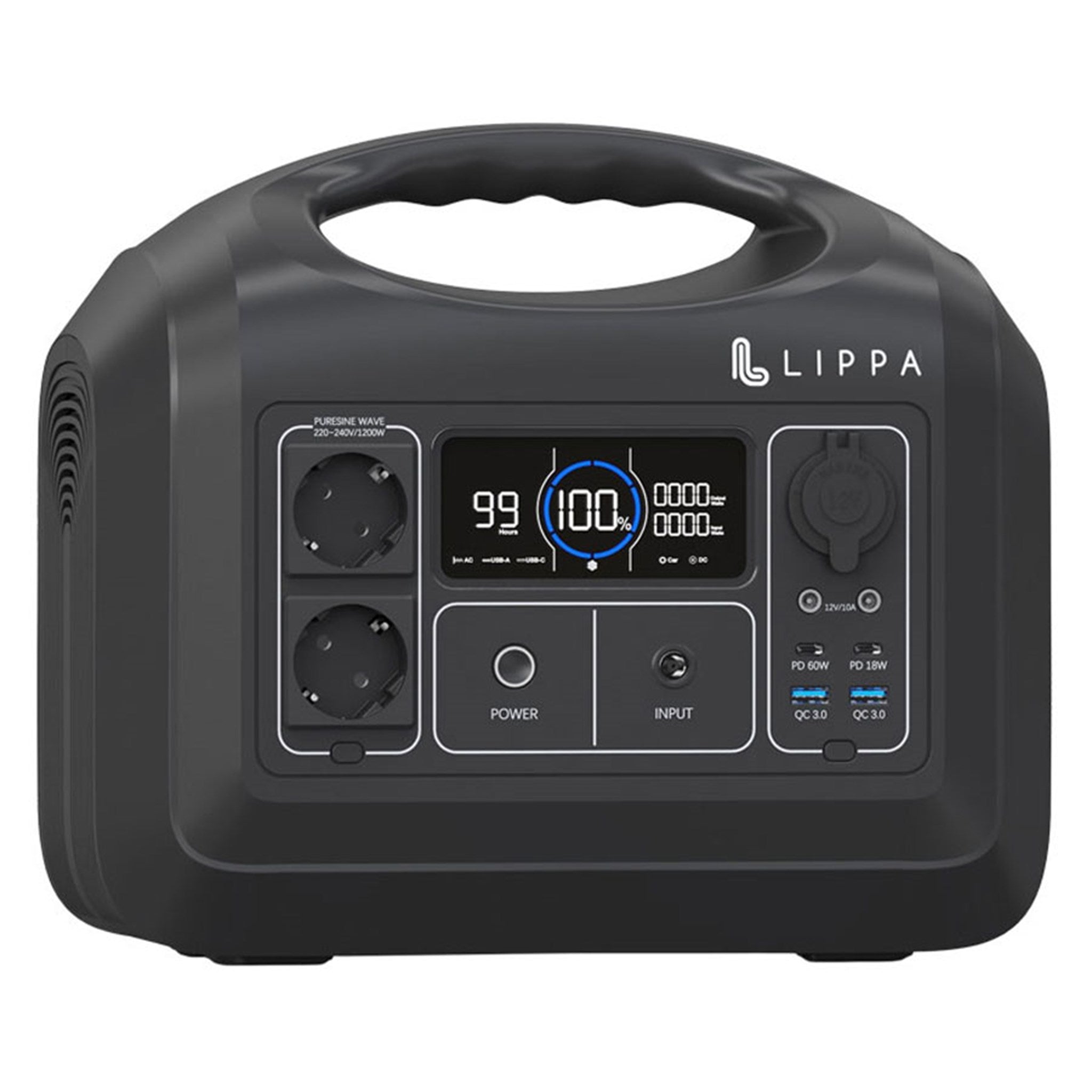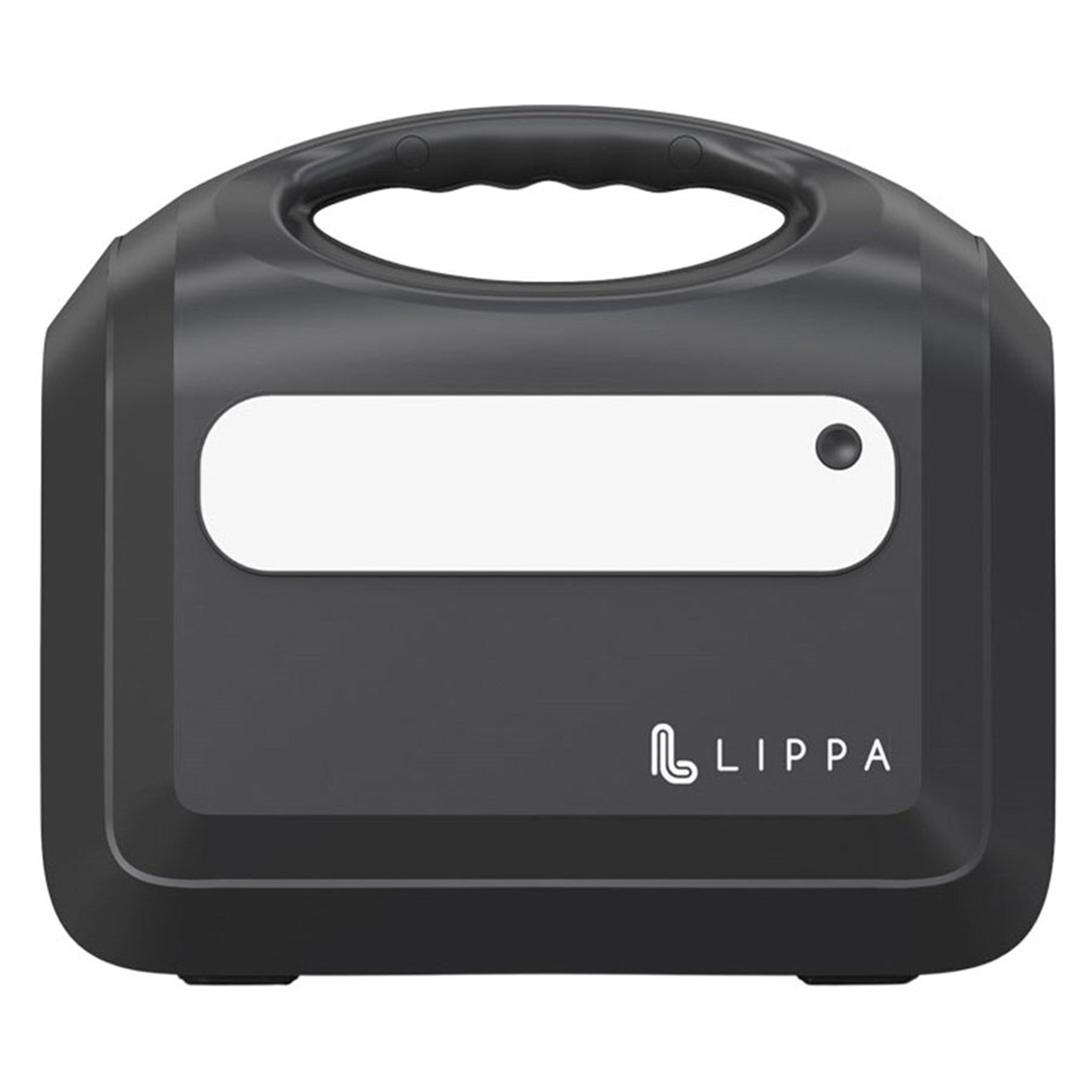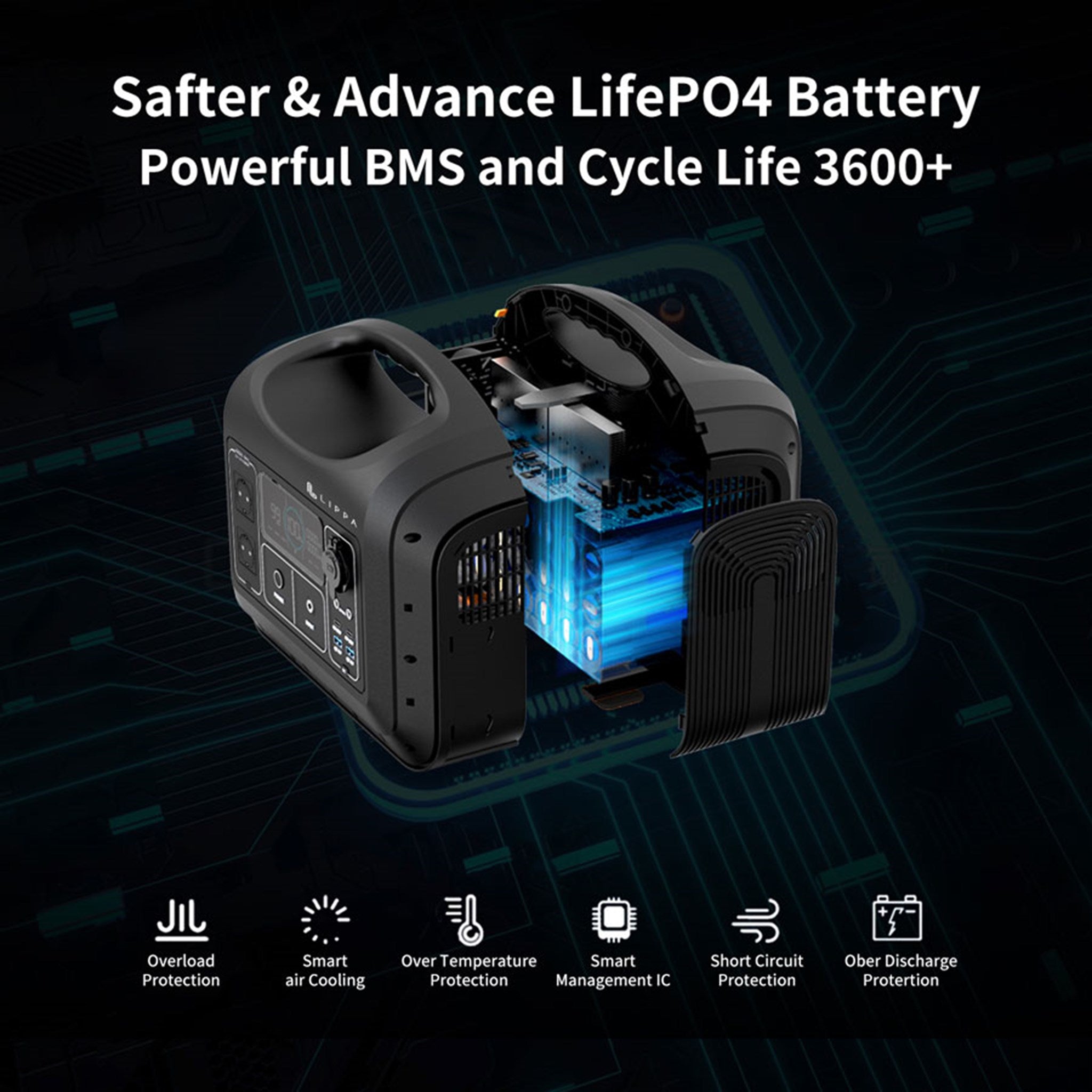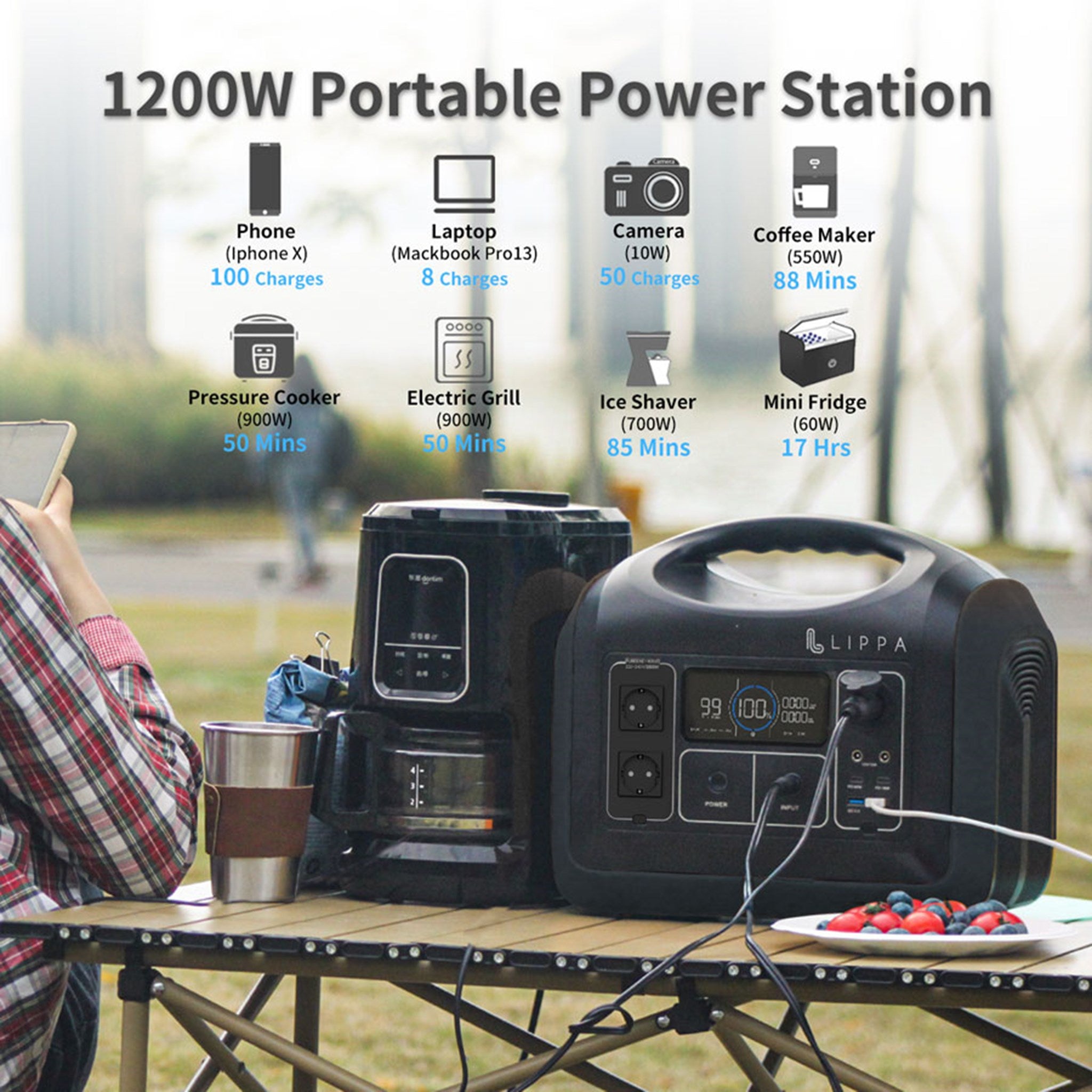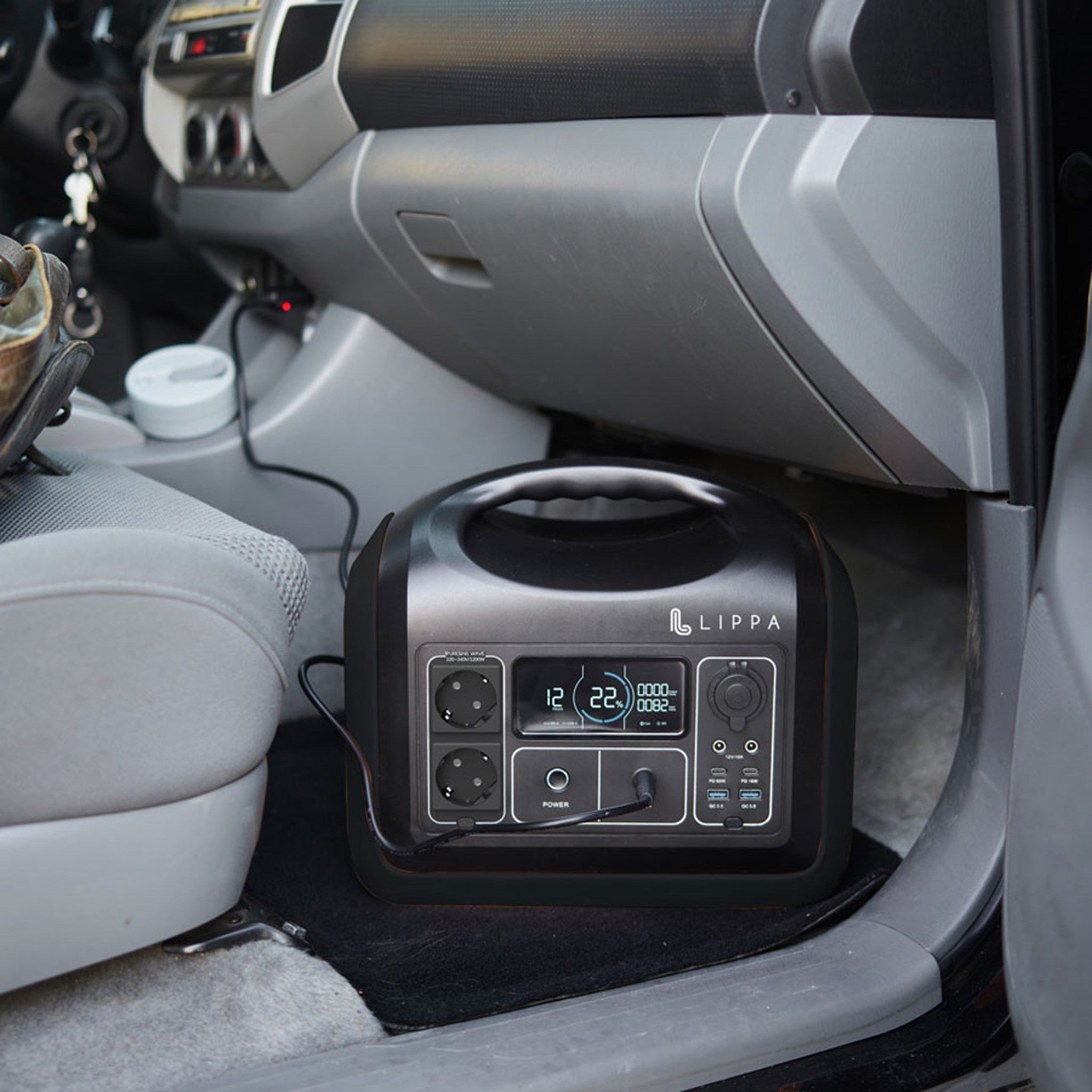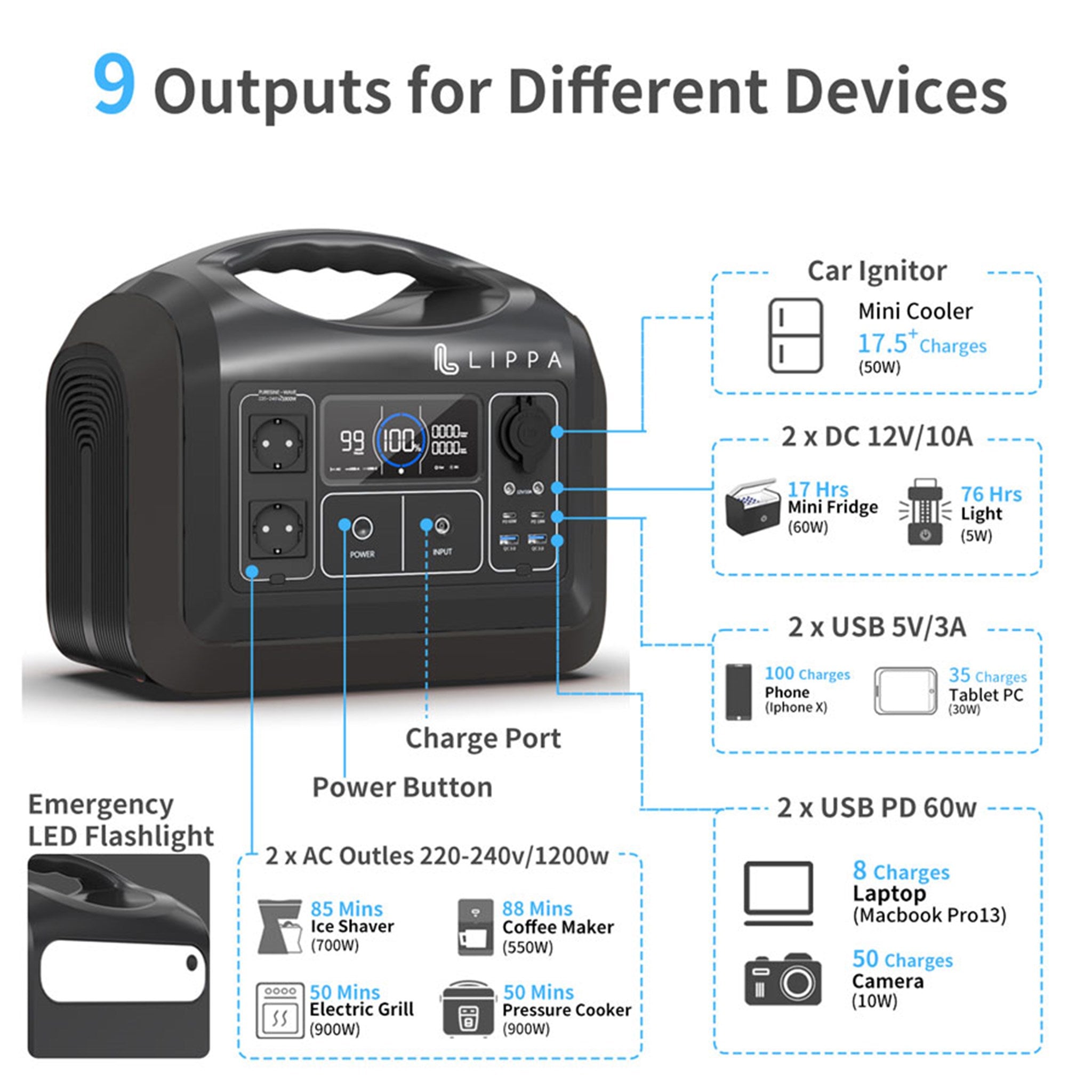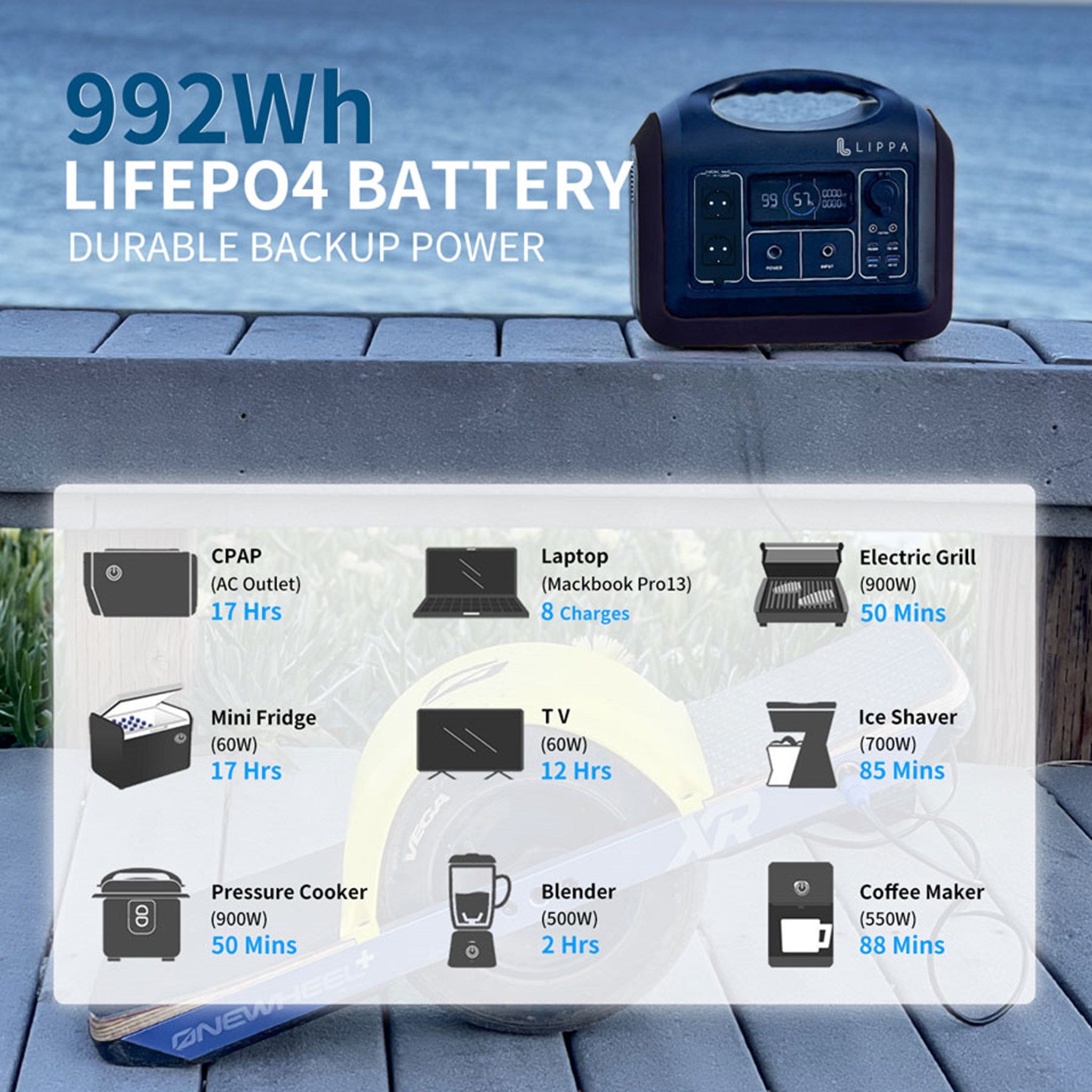 Power station 992Wh, Black
In stock
Pickup available at Landbrugsvej 10L + 10K
Usually ready in 24 hours
Power station 992Wh, Black
Landbrugsvej 10L + 10K
Pickup available, usually ready in 24 hours
Landbrugsvej 10L
5260 Odense
Denmark
+4544223004
Power station with 992 Wh and 3600W peak
---
Are you looking for a reliable and revolutionary power solution? Then look no further - the Lippa Power Station 992 Wh is here to provide plenty of energy for short or long-term use. With an impressive capacity of 992 Wh, this portable powerhouse is able to support up to nine devices simultaneously, while the remarkable protection against over-current, over-voltage and over-temperature ensures that your experience is hassle-free and safe. In addition, it offers three intuitive charging methods in one intelligent device. Whether you use an AC plug for the wall, a solar panel or a car plug - the Lippa Power Station will quickly supply the necessary power for your needs. Add two 1200W sockets with 3600W peak, two USB-A outputs (12V/1.5A=18W max per port), a cigar plug (DC 12V/10A=120W max), two DC ports (12V/10A/5.5mmx2 ,1mm=120W max per port) and two USB-C ports PD (60W & 18W) - and voilà! You have a reliable source of energy at your fingertips!
Note that the sockets deliver Pure Sine Wave - pure sine.
Battery capacity of 992 Wh - charge e.g. a mobile phone up to 100 times
---
The large capacity means that you can charge a large number of devices up to several times, or keep devices running for several hours.
For example, keep your CPAP machine running for approx. 15-17 hours - it's perfect for 2 good nights sleep. Charge a drone up to 17 times. (51Wh) or keep your 43" mini fridge running for approximately 17 hours.
See more examples in the pictures.
List of outputs for charging - 9 outputs
---
2 x AC Output: 220-240v, 1200W rated (Peak 3600W)
2 x USB-A Output: 12V/1.5A = 18W max. per port
1 x Car Port: DC 12V, 10A = 120W max.
2 x DC Outputs: 12V, 10A, 5.5mm x 2.1mm = 120W max. per port
2 x Type-C Outputs: PD 60W and 18W
Can be recharged in several ways - enjoy the flexibility
---
Choose between a traditional socket, USB-C charging, charging via car or or go the 'green' way and charge via a solar panel. Last but not least, you can 'dual-charge' the power station. Charge it simultaneously through the socket and the USB-C port - this gives a full charge in just 3 hours.
The 5 options give you greater flexibility.
Charging via socket takes approximately 5-7 hours, while solar panel with Lippa 200W solar panel (DC7909 port) takes approximately 8-12 hours. (in optimal weather conditions)
Charging through the USB-C port takes about 12 hours and through the cigar plug in the vehicle takes about 10.5 hours.
Upgrade the power station with solar panels
---
As I said, you can charge our power station via solar panel with up to 200W. In optimal weather conditions, you can get a full charge in 8-12 hours.
Lippa have their own solar panels which are perfectly compatible with the power stations.
For this power station, we recommend using a Lippa 200W solar panel.
Specifications for Lippa power station 992 Wh
---
Product type: Power station
Input ports

AC Charge input voltage: 220-240Vac (50Hz/60Hz) 200W max.
Solar port (DC7909 port): 200W
USB-C PD: 60W
Car charging DC 12-30V 200W max.

Output ports

1x AC Output: 110-240v, 50/60Hz, 1200W rated total (Peak 3600W)
2 x USB-A QC Output: 9V/2A = 18W max. per port
1 x Car Port: DC 12V, 10A = 120W
2 x DC Outputs: 12V, 10A = 120W max. per port
2 x Type-C Output: 1 x PD 60W, 1 x 18W
Battery:

Capacity: 992 Wh (310000 mAh) (32V;31Ah)
Battery type: LiFePO4 (Lithium Iron Phosphate)
Cycle / Cycle life: 2500
Shelf life: highly recommended to discharge and recharge to 80% battery every 3 to 6 months to prevent battery failure

Management System: MPPT Controller

Charging charging time

AC (EU socket) (200W max.) = approx. 5-7 hours
Solar panel 200W = approx. 8-10 hours
Cigarette socket in vehicle (12/24V) = approx. 15 hours
Shelf life: highly recommended to discharge and recharge to 80% every 3 to 6 months to prevent battery failure

MPPT: Yes (Make it compatible with the majority of solar panels on the market)
BMS: Japan Renesas BMS (New Energy Vehicles Level Battery Management System)
LED Light: 7W, 3 modes, low brightness, high brightness and SOS mode
Weight: approx. 11 kg
Dimensions: 33 x 22 x 28.9 cm
Temperature for storage and use: 0-40°C:
The box contains the following:

1 x Lippa power station 992 Wh
1 x charging cable (AC) EU socket
1 x car charger cable for DC5525 (Input in the power station)