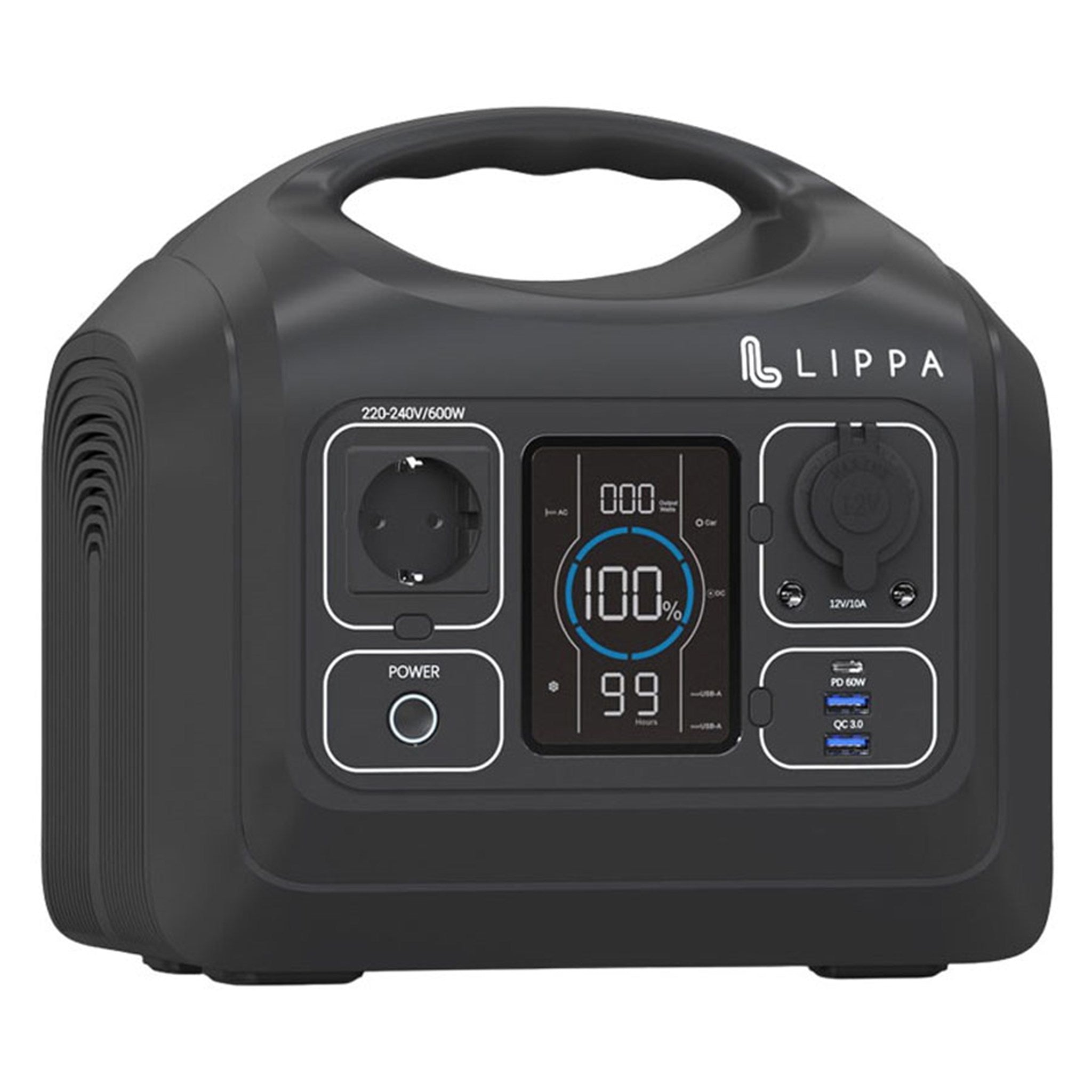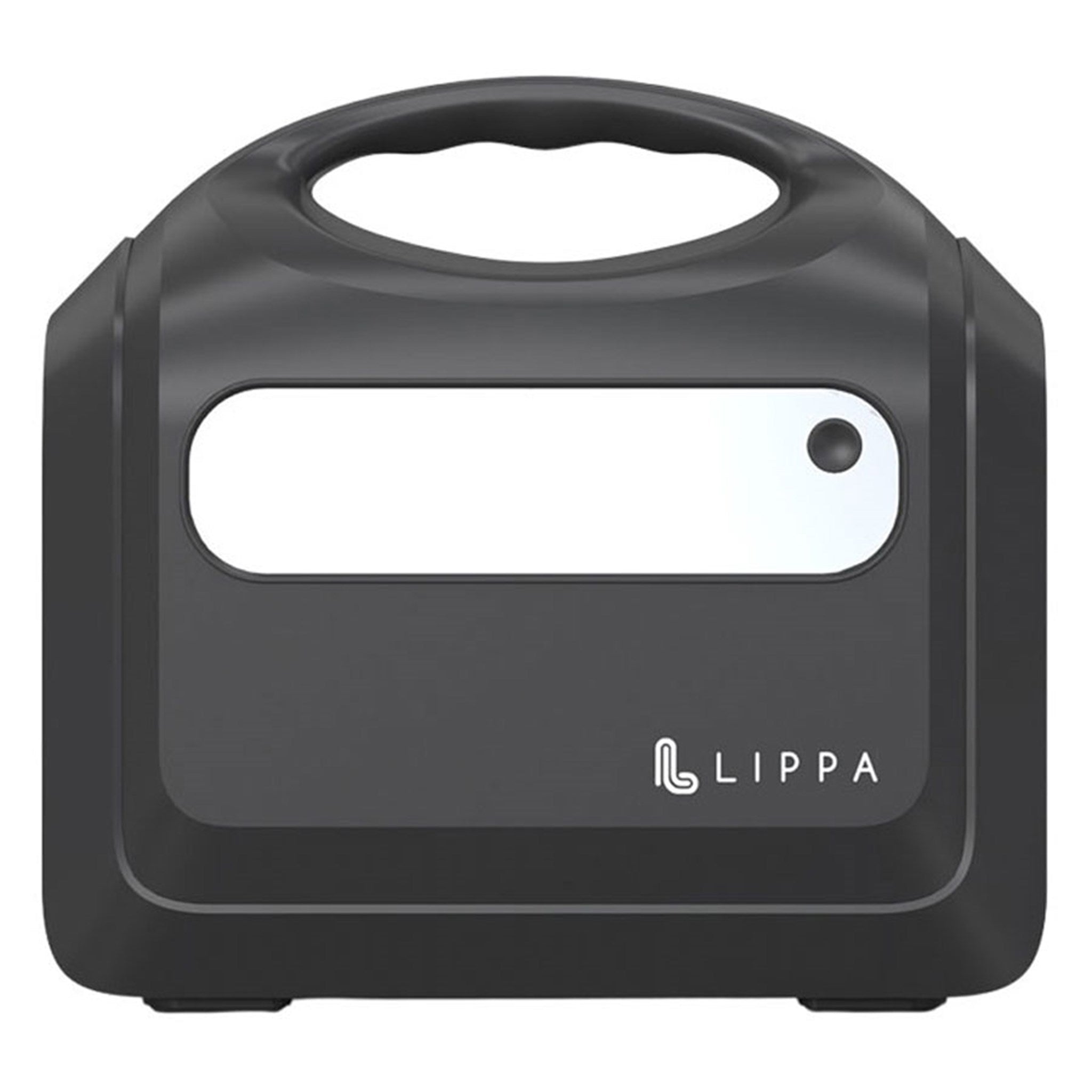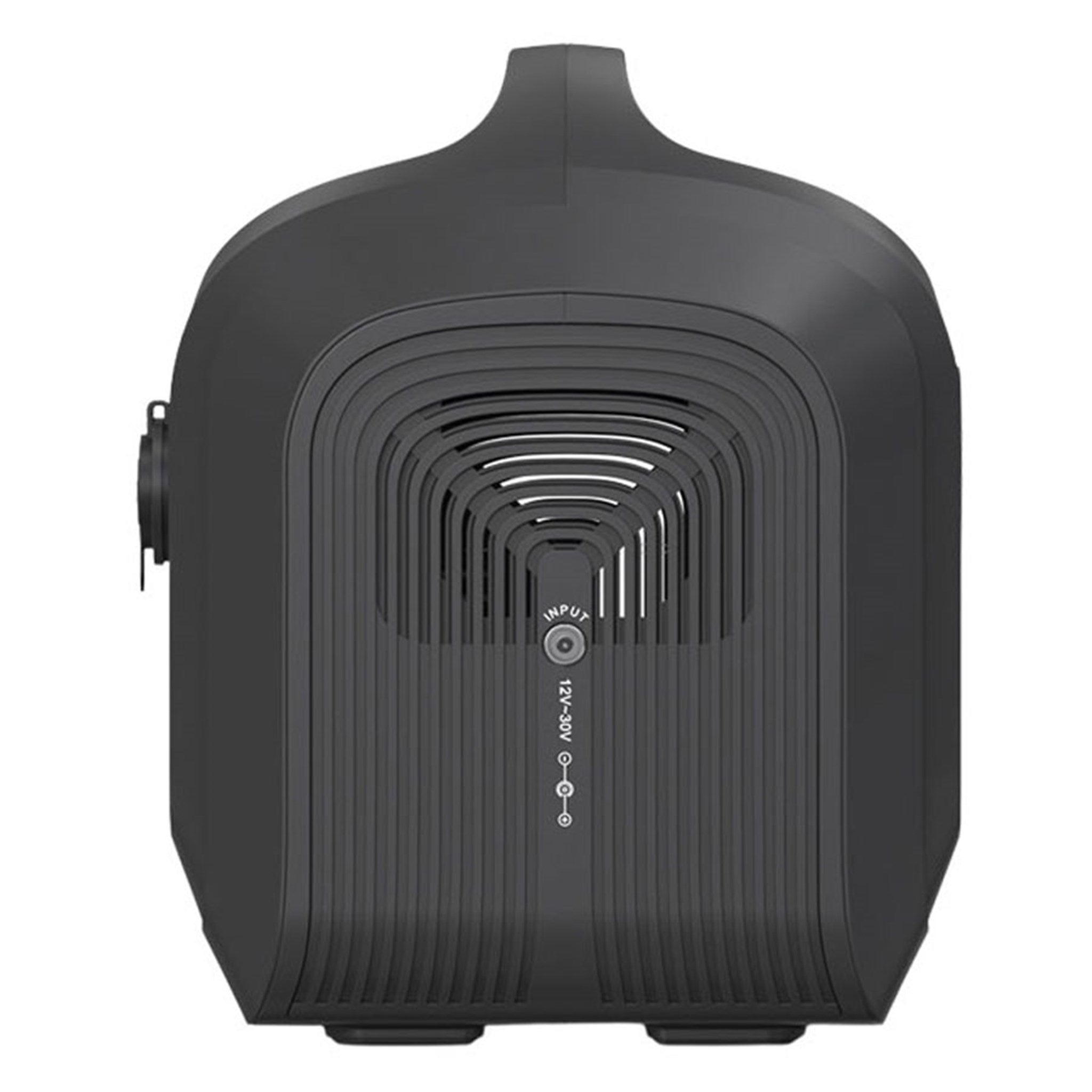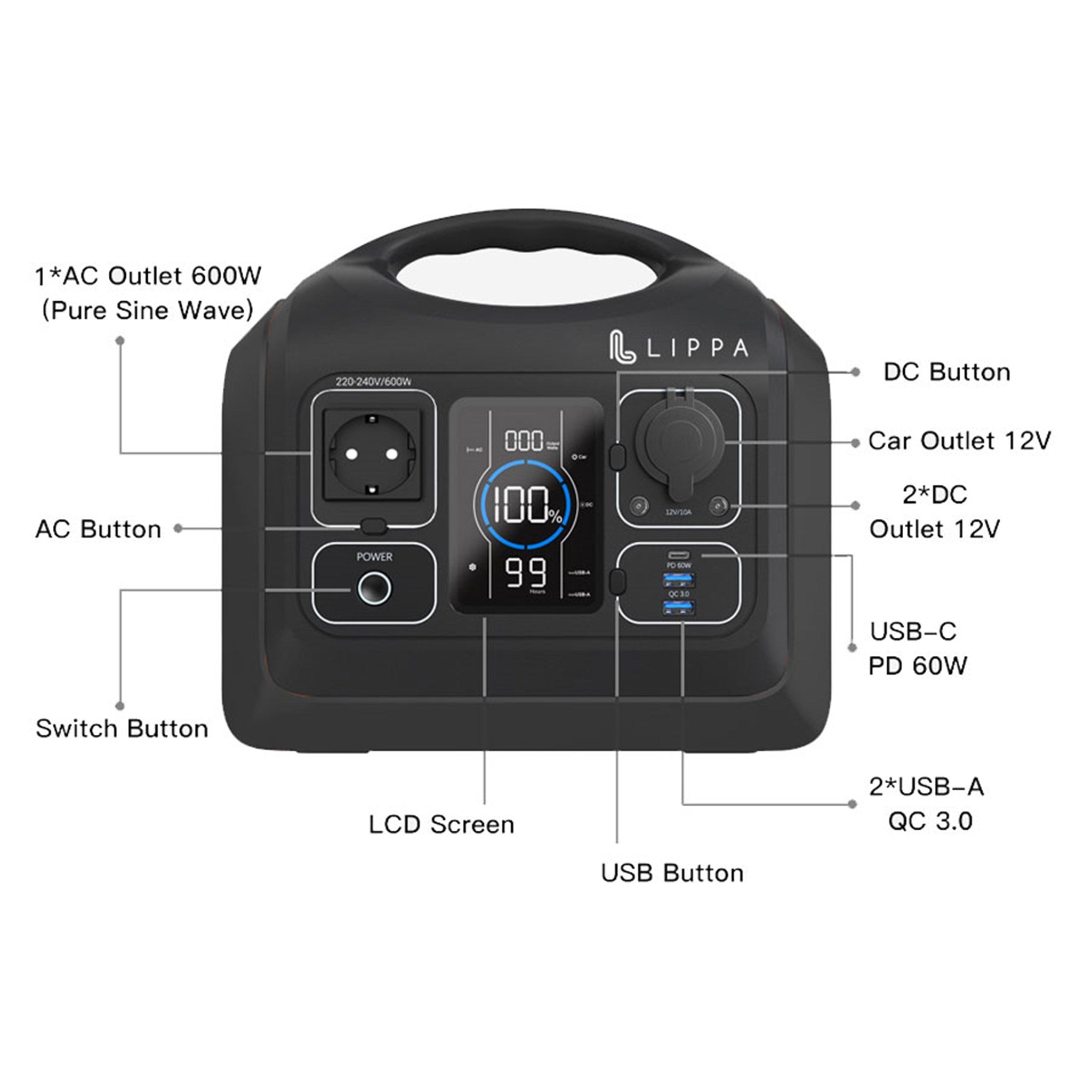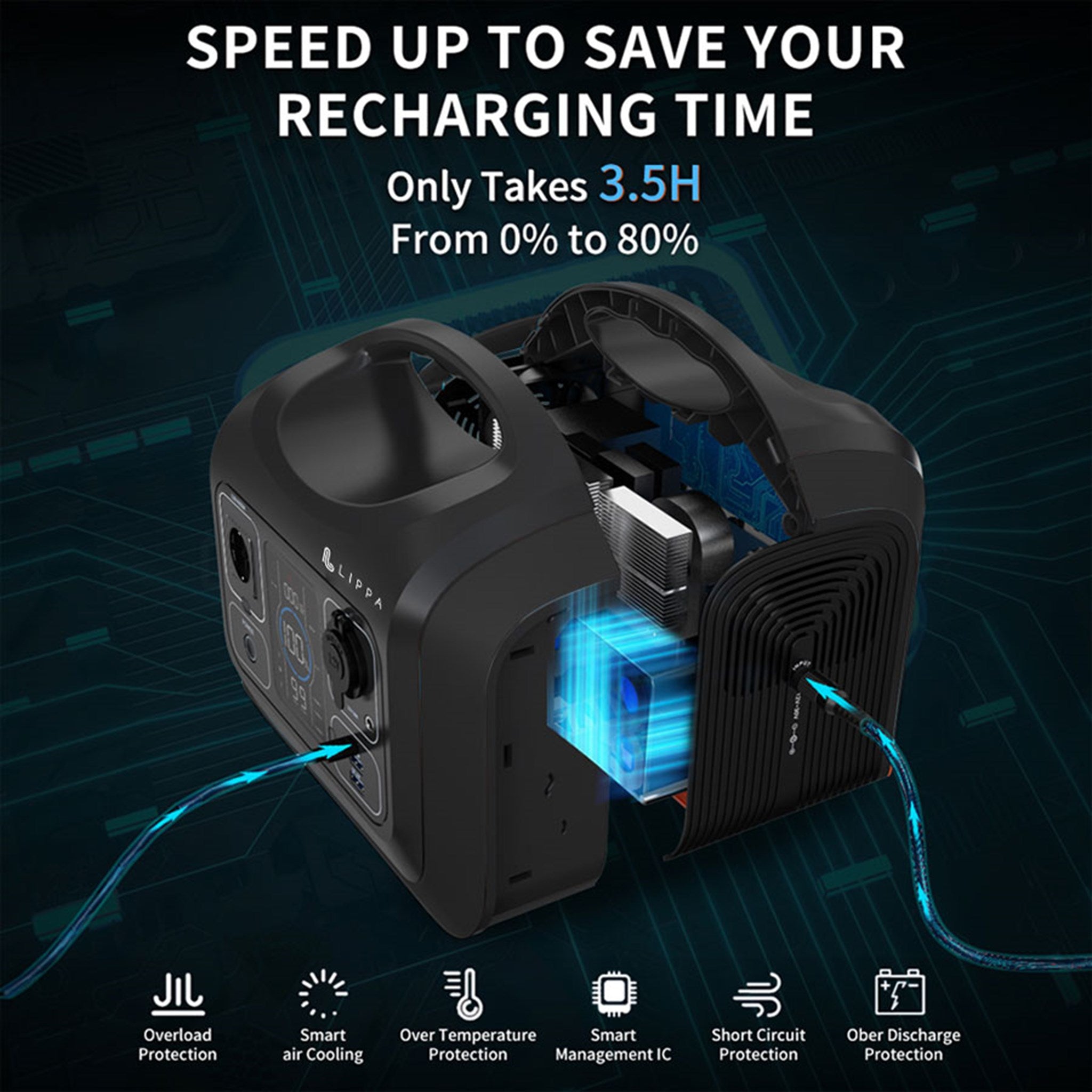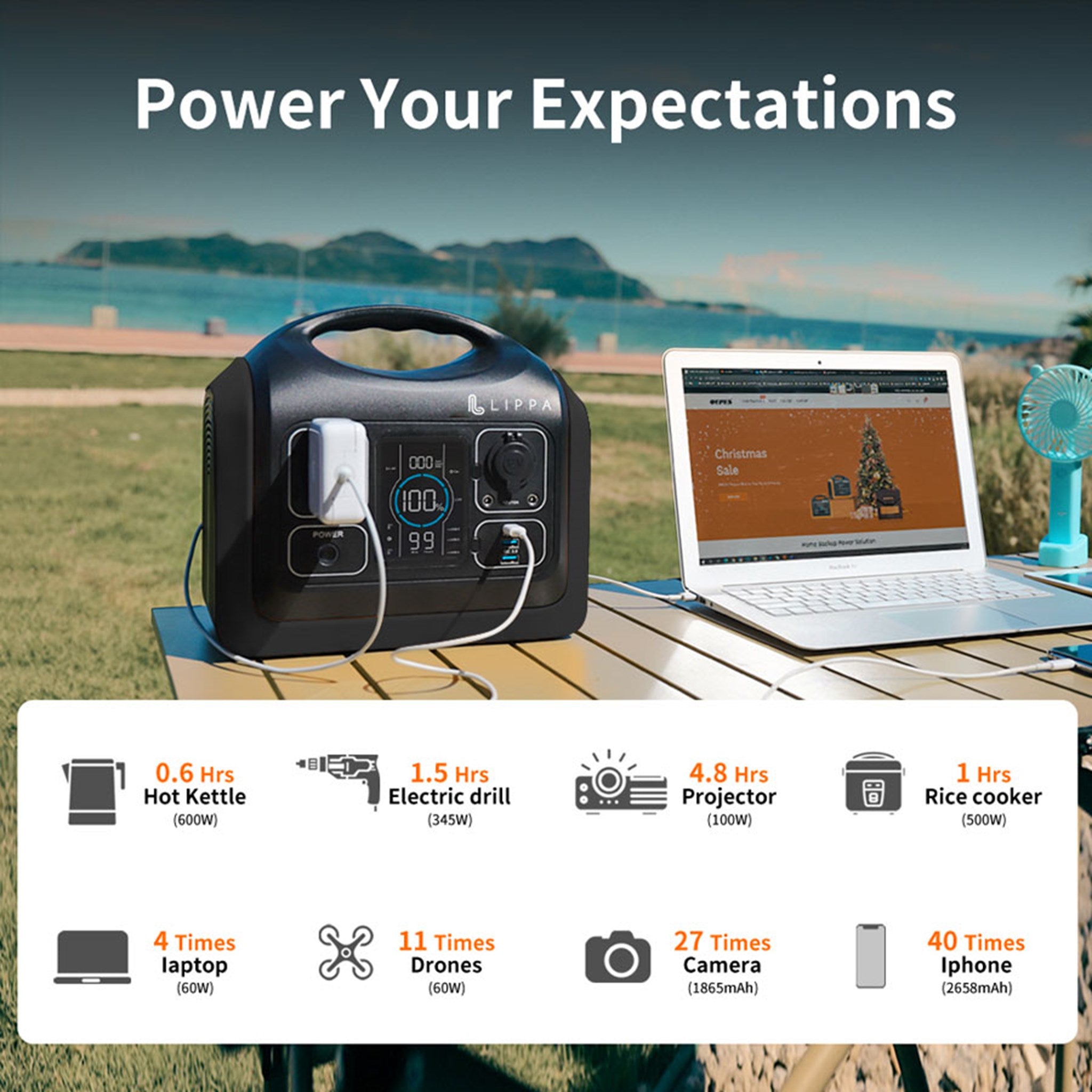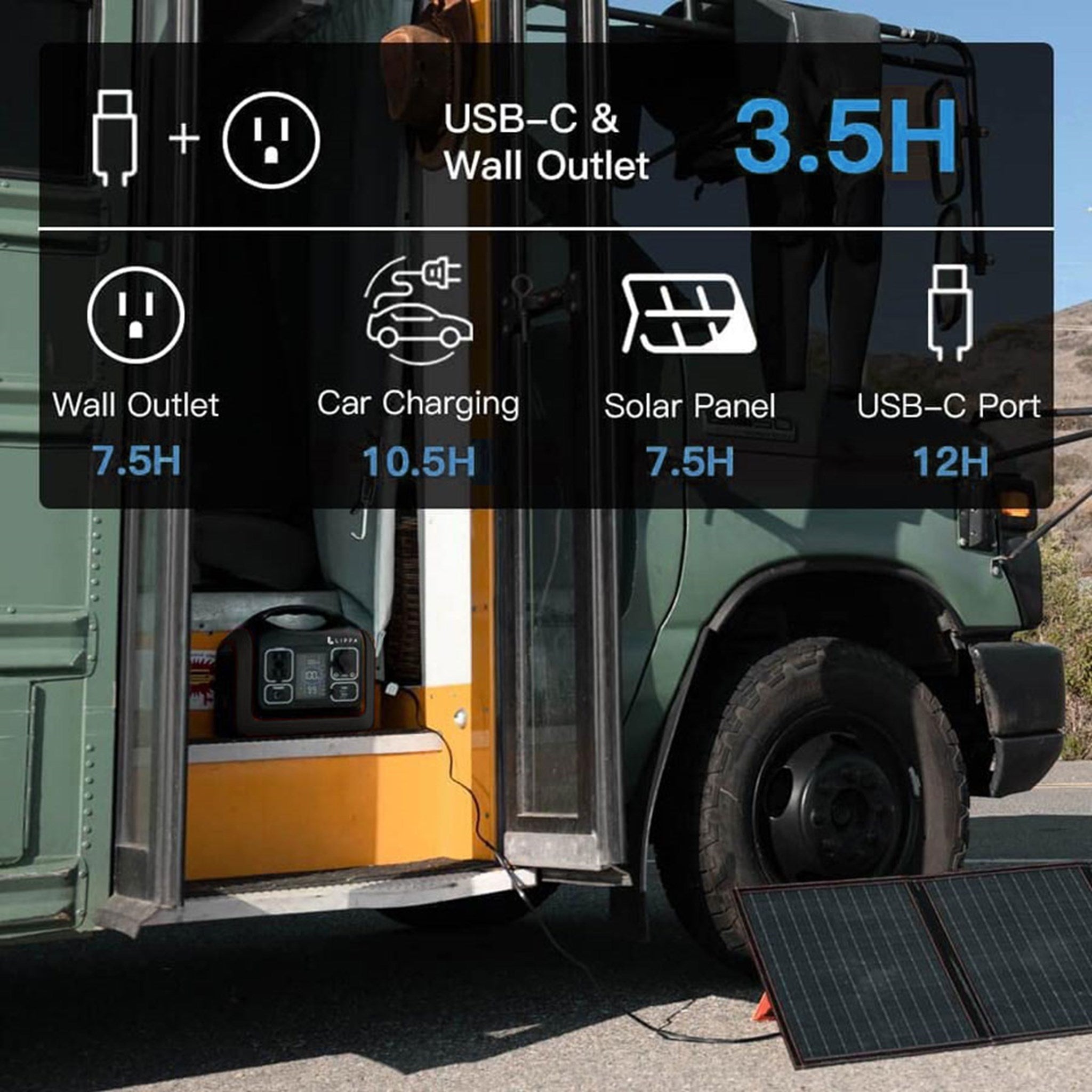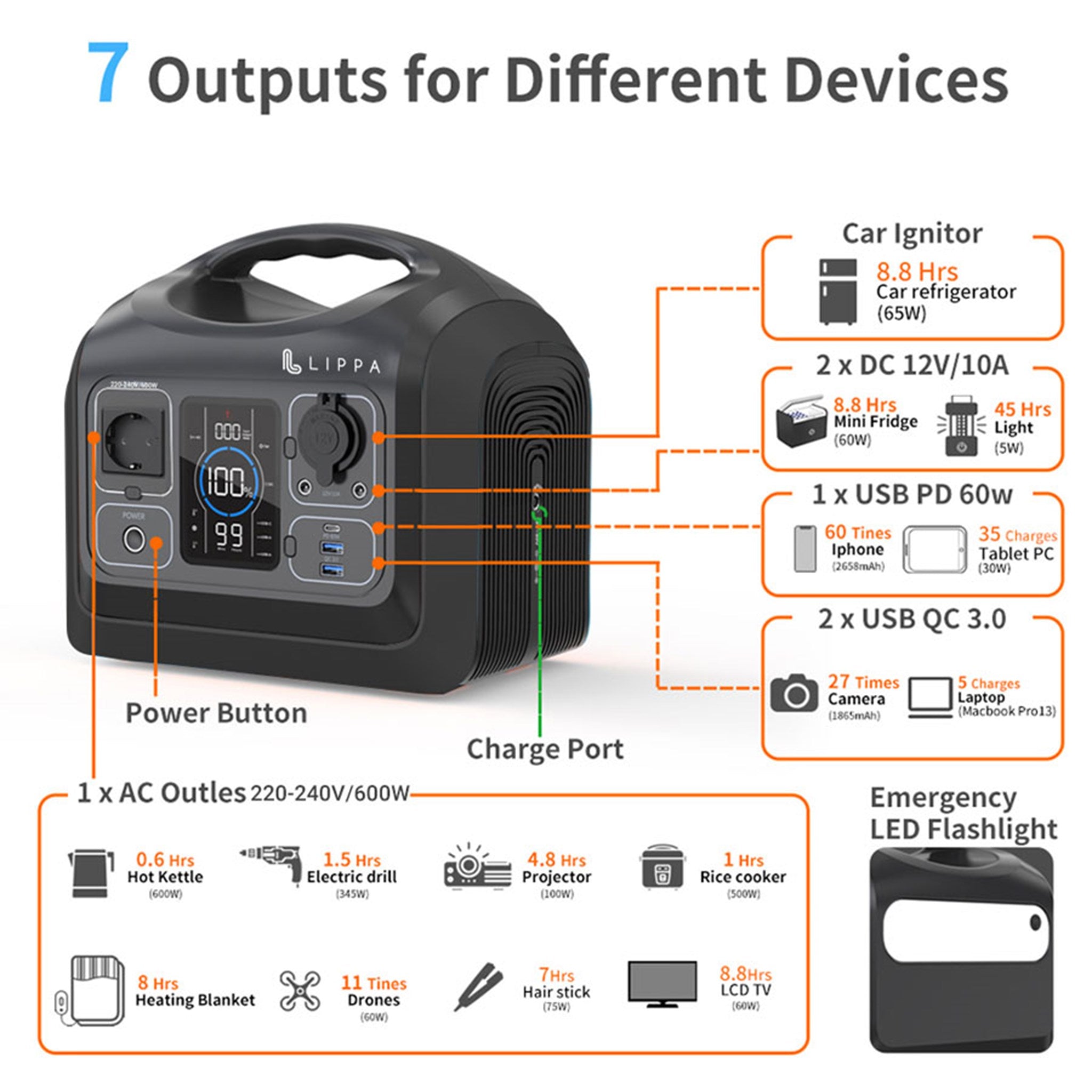 Power station 595 Wh, black
In stock
Pickup available at Landbrugsvej 10L + 10K
Usually ready in 24 hours
Power station 595 Wh, black
Landbrugsvej 10L + 10K
Pickup available, usually ready in 24 hours
Landbrugsvej 10L
5260 Odense
Denmark
+4544223004
Power station with 595 Wh and 1000W peak
---
Introducing the Lippa power station 595 Wh - the ideal solution for reliable, clean power anytime, anywhere. This ingenious device is perfect for taking your energy needs on the go, as well as a great choice for extra power at home or to support your hobbies and travel expeditions. Find your way in the dark using the built-in LED light on the back.
Thanks to its power capacity of 595 Wh, you can keep all your important devices powered, wherever you are. The outlet can charge and keep devices using up to 600W running, so it has plenty of power even when you need to operate larger items. It has 1000W peak, which is enough to power a wide range of devices.
If you want to charge smaller devices such as mobile phones, headphones or other technical items, you can use the built-in USB-A ports, which provide efficient charging with up to 18W max. gate. Even laptops can easily be powered with the USB-C port, which has Power Delivery that delivers up to 60W!
Note that the socket delivers Pure Sine Wave - pure sine.
In short, the Lippa power station 595 Wh gives you access to reliable and clean power - anytime and anywhere!
Battery capacity of 595 Wh - charge e.g. a mobile phone up to 40 times
---
The large capacity means that you can charge a large number of devices up to several times, or keep devices running for several hours.
For example, keep your CPAP machine running for approx. 7 hours - it's perfect for a good night's sleep. Charge a drone up to 8 times. (51Wh) or keep your 43" TV running for approximately 4 hours.
See more examples in the pictures.
List of outputs for charging - 7 outputs
---
1 x AC Output: 220-240v, 600W rated (Peak 1000W)
2 x USB-A QC Output: 5V,3A = 18W max. per port
1 x Car Port: DC 12V, 10A = 120W max.
2 x DC Outputs: 12V, 10A, 5.5mm x 2.1mm = 120W max. per port
1 x Type-C PD Outputs: 60W
Can be recharged in several ways - full charge in just 3.5 hours
---
Choose between a traditional socket, USB-C charging, charging via car or or go the 'green' way and charge via a solar panel. Last but not least, you can 'dual-charge' the power station. Charge it simultaneously through the socket and the USB-C port - this gives a full charge in just 3.5 hours.
The 5 options give you greater flexibility.
Charging via socket takes approximately 5-7 hours, while solar panel with 100W solar panel (DC7909 port) takes approximately 8 hours. (in optimal weather conditions)
Charging through the USB-C port takes about 12 hours and through the cigar plug in the vehicle takes about 10.5 hours.
Upgrade the power station with solar panels
---
As I said, you can charge our power station via solar panel with up to 100W. In optimal weather conditions, you can get a full charge in 8-10 hours.
Lippa have their own solar panels which are perfectly compatible with the power stations.
For this power station, we recommend using our 100W solar panel - click here Lippa 100W solar panel.
Specifications for Lippa power station 595 Wh
---
Product type: Power station
Input ports

AC Charge input voltage: 220-240Vac (50Hz/60Hz) 100W max.
Solar port (DC7909 port): 100W
USB-C PD: 60W
Car charging DC 12-30V 100W max.

Output ports

1x AC Output: 110-240v, 50/60Hz, 600W rated (Peak 1000W)
2 x USB-A QC Output: 9V/2A = 18W max. per port
1 x Car Port: DC 12V, 10A = 120W
2 x DC Outputs: 12V, 10A = 120W max. per port
1 x Type-C PD Output: 60W
Battery:

Capacity: 595 Wh (186000 mAh)
Battery type: LiFePO4 (Lithium Iron Phosphate)
Cycle / Cycle life: 2500
Shelf life: highly recommended to discharge and recharge to 80% battery every 3 to 6 months to prevent battery failure

Management System: MPPT Controller

Charging charging time

AC (EU socket) (100W max.) = approx. 5-7 hours
Solar panel 100W = approx. 8 hours (in optimal weather conditions)
Cigarette socket in vehicle (12/24V) = *
Shelf life: highly recommended to discharge and recharge to 80% every 3 to 6 months to prevent battery failure

MPPT: Yes (Make it compatible with the majority of solar panels on the market)
BMS: Japan Renesas BMS (New Energy Vehicles Level Battery Management System)
LED Light: 7W, 3 modes, low brightness, high brightness and SOS mode
Weight: approx. 6.8 kg
Dimensions: 26.7 x 19.7 x 24.7cm
Temperature for storage and use: 0-40°C
The box contains the following:

1 x Lippa power station 595 Wh
1 x charging cable (AC) EU socket
1 x car charger cable for DC5525 (Input in the power station)